POWERFUL PERFORMANCE
The reputation of Hammer Strength equipment has been built with steel, sweat and grit.
Hammer Strength is the choice of professional athletes when they train at the highest levels, and it's relied upon by the top sporting clubs and professional training facilities in the country. Hammer Strength is the No. 1 option for elite athletes because it can take the pounding they dish out, and, most importantly, it's designed to provide results. It isn't reserved just for professional training facilities.
Everyday athletes benefit from the excellent bio-mechanical design in the same way that the pros do.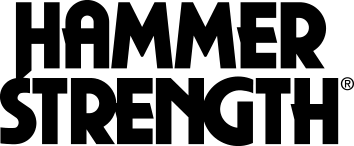 BUILDING CHAMPIONS
With the revolutionary vision and guidance of founder Gary Jones, this performance equipment became the first to explore the ergonomic advantages of utilising converging and diverging arcs of motion. Now, this system boasts more than 80 innovative products including Plate-Loaded, Motion Technology, HD Racks, Benches & Racks and Dumbells. More training variety than anyone else.
Hammer Strength gives you the power to build champions at any level.