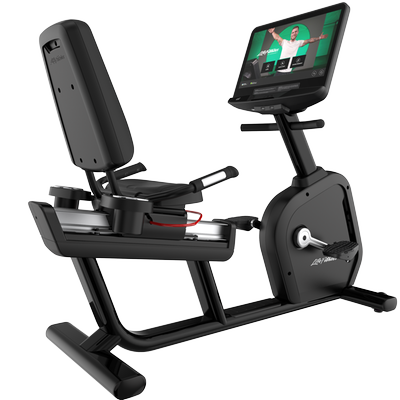 Integrity+ Series

Lifecycle® Recumbent Exercise Bike
Introducing the next generation of trusted Life Fitness cardio–the Integrity+ Lifecycle® Recumbent Bike. The recumbent bike caters to the needs of all exercisers, ensuring a delightful journey towards fitness. Designed with a sleek and modern aesthetic, Integrity+ Cardio is built upon a foundation of over 20 years of unparalleled reliability and innovation, making it the go-to choice for fitness enthusiasts worldwide. It offers several console choices that include the breathtakingly advanced Discover SE4 Console.
Immersive cardio workouts are provided through easy access to entertainment and popular fitness apps. Hundreds of fitness experiences are available through the complimentary Life Fitness On Demand+, available on the SE4 console.
The Integrity+ Recumbent Bike seat boasts a luxurious backrest and lumbar support, ensuring optimal posture that reduces strain. Adjusting the seat is effortless, thanks to the convenient wrap-around adjustment lever, allowing exercisers to quickly find the perfect seating setup. The step-through design and front assist handle provide easy entry and exit. Wide, self-leveling pedals with simple buckle straps allow exercisers to get started quickly and easily.
Keep current with wireless internet connection through Halo Facility,which allows for the implementation of Life Fitness On Demand+, seamless monitoring of valuable asset data, and effortless console software updates. The extremely comfortable recumbent bike is an ideal choice for facilities seeking modern appeal and a multitude of options to create engaging experiences for a diverse range of exercisers.
Discover SE4 Console only available on Integrity+ Cardio