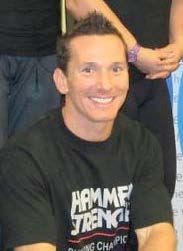 Gavin is a world leader in fitness, he has completed thousands of presentations in over 40 countries around the world. From Russia to Iceland, from England to Ethiopia, Gavin has presented to trainers, owners and managers on every continent and is one of only five Life Fitness Academy Global Master Trainers. He has worked in the fitness industry since 1990 with experience as an owner, manager, personal trainer and presenter.
Gavin has owned 2 clubs and as a trainer worked with a spectrum of clients, some of these include, sports conditioner for a Sydney cup rugby union club and premier division rugby union players. He has been the  conditioning coach for professional and recreational short course and ironman triathletes and multi sport athletes. Gavin has had extensive experience working in rehabilitation with a range of clients with various conditions from shoulder and knee to paraplegics and has guided 1000s of clients to a new and better body.
Gavin's role as the Global Master Trainer for the Life Fitness Academy, has seen him work as the course developer for their international physiology, biomechanics and personal training modules, as well as assisting in the development of Life Fitness' equipment specific modules.
Gavin has been a presenter for the Australian Institute of Fitness on their Fitness Instructor and Personal Trainer courses and has been presenting at conventions in Australia, Asia, Africa and Europe since 1994.
Gavin has a Bachelor of Human Movement Sports Science and a Masters in Nutrition. In education his specialist areas include structural kinesiology, functional strength training, resistance training, personal training, nutrition, member engagement and retention programs, along with cardiovascular training.
Practically Gavin has competed in and played rugby union, power lifting, natural body building, short course and Olympic distance triathlons and more recently Gavin has participated in 5 x Ironman triathlons (3.8km swim/ 180.2km ride/ 42.2km run) and completed 15 x ó Ironman triathlons (1.9km swim/ 90km ride/ 21km run). In 2008 Gavin climbed Mt.Kilimanjaro the highest mountain in Africa.