CONSOLE FEATURES
FACILITIES CONTROL THE EXPERIENCE
Explore the features facility owners can utilise for ultimate customisation.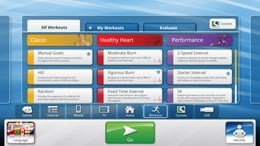 Go the Extra Mile
Favorite websites. Popular TV channels. Plus, workouts you create just for your facility. You can offer a one-of-a-kind experience by giving users unique content and entertainment that's truly more personal, informative and inspiring.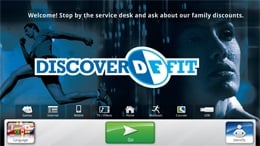 Make It Your Own
Step up the game band brand your equipment with your facility's identity. Create a custom scrolling message that informs users about services and programs. Updating your content is easy and allows you to keep exercisers up-to-date, every day.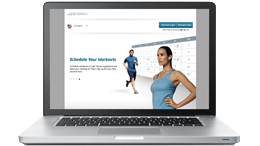 Keep It Going
Stay on top of what helps make your facility tick. Keep tabs on usage data, internet connectivity and extended reporting features that allow you to run things more smoothly. Plus, you can perform equipment software updates online, so you can easily upgrade and expand content over time.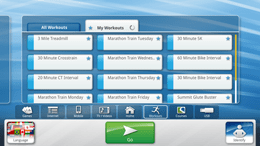 In Control
Keep users connected with open browsing they can personalize. They can edit website selections and create favorites with LFconnect.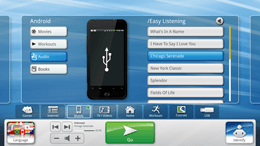 Exceed Expectations
Now exercisers can log in via smartphone, PIN, USB drive or RFID and see your facility's personalized content. They can connect with friends, personal trainers or groups through My Community or other social platforms to motivate and challenge them. Users can link to their personal trainers or set-up customized workouts through LFconnect.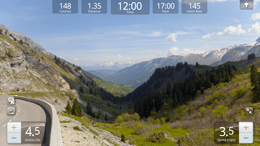 Give Them The World
California. Europe. Africa. Experience interactive, high-definition workouts like never before. Enjoy Lifescape's immersive outdoor adventures where the scenery keeps pace with the exerciser and the equipment incline and resistance changes with the terrain.
Base Features
RECUMBENT LIFECYCLE EXERCISE BIKE BASE FEATURES
Through continuing biomechnaical research and testing, we've created our Recumbent Lifecycle Exercise Bike, an award-winner for its innovative design. It features the Comfort Curve Plus™ Seat with deluxe back support and optional deluxe armrests for a more relaxed riding position. The equipment's step-through design has greater clearance to accommodate all body types or those rehabilitating from injury.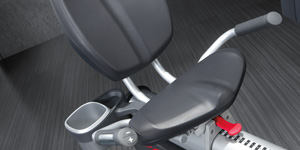 Easy adjust Comfort Curve Plus seat with deluxe back support
adjusts even from the seated position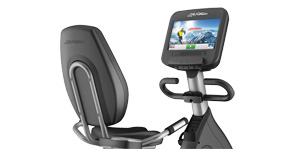 Lifepulse™ digital heart rate monitor
hand sensors located on handlebars for upright and deluxe armrests
Easy-to-reach resistance control
conveniently adjusts workout intensity
Deluxe Armrests
for a more relaxed workout; raise for easy on and off
Lifepulse™ digital heart rate monitor hand sensors located on handlebars and deluxe armrests Heart Rate programs
automatically adjust resistance keeping users in their target heart rate zone