Tall mast with sturdy platform for ground-based training
Adjustable cranks
Bi-directional exercise
Iso-Strength safe, accommodating strength program
INTELLI-FIT CONSOLE
Intelli-Fit Console is not just a new console for SCIFIT products, it also supplies programs, tests, and training protocols that provide the medical accuracy of watts. The user can see the effectiveness of the workout and expect consistent results. It looks great on the outside, but it's the science inside that makes a difference.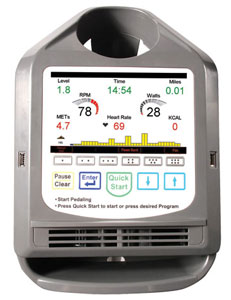 Improvement
One of the things that sets Intelli-Fit apart is the ability to demonstrate improvement:
Small increments in time and resistance are just two of the ways to see immediate improvement and stay motivated.
Intelli-Fit is the most comprehensive system for experiencing even the smallest improvements – down to .1 increments across a broad range of metrics.

Record results to any USB memory stick (no software required) to track results and see improvement over time.

Integrated assessment programs set a baseline and demonstrate progress.

Specially designed programs to help improve individual scores on heart and power assessments.

Cardiovascular Fitness – This is measured by heart rate recovery. Intelli-Fit takes the end user through a test, and then provides a score in beats per minute. Users can follow the built-in protocol to improve this score.

Power – Intelli-Fit takes the end user through a test, and then provides a score based on watts. Users can follow the built-in protocol to improve this score.
Unique Features
Intelli-Fit's basic programs get people moving. Whatever your functionality or fitness level, Intelli-Fit uses the unique features of SCIFIT equipment, like bi-directional resistance, accessibility, adjustability, Iso-Strength, Constant Work, and more to provide simple, easy to use programs for any goal. Intelli-Fit precisely combines the unique features of SCIFIT equipment with the detailed, custom programs that only SCIFIT can offer.
Measure – Record – Document
Intelli-Fit lets you measure, record & document results to track progress and give motivation and purpose. The medical accuracy and consistency of our products means that when you perform an assessment, you can see true results and improvement over time.
---
Heart-Fit™ and Power-Fit™ testing and training protocols are designed by world renowned exercise specialist Paul Robbins, Metabolic Specialist with Athletes' Performance. These programs measure and help improve heart rate recovery, power, and endurance. Heart-Fit and Power-Fit provide the ability to do benchmark assessments, to follow with the built-in training, and then test again to show improvement. Intelli-Fit's medical accuracy provides consistent exercise conditions for repeatable assessments and measurement of true results.
Fit-Key™ Compatible
Fit-Key compatibility lets you create and prescribe custom programs and document results. Optional Fit-Key 5.0 software makes it easy to create and prescribe specialized exercise programs and track compliance and improvement via the software.
A Perfect Fit

Physical Therapy, Rehabilitation, Cardiac Rehab, Medical Exercise Therapy, Active Aging, Wellness, Schools, Niche Fitness, Uniformed Services, Corporate Fitness – no matter the category,  Intelli-Fit has the tools you want and need, and the programs and features your patients and clients will use.
Integrated Features
Personal twin fans

Accessory tray

Water bottle holder

Reading rack

Two USB ports: one for saving workout data and Fit-Key™ applications and one for charging accessories (iPods, phones, MP3 players)

CSAFE port and 8-volt DC power port for TV or other controllers
---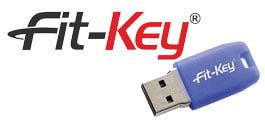 SOFTWARE
Fit-Key software is a comprehensive and intuitive tool for prescribing and documenting exercise protocols. This simple, 3-tiered program puts all of SCIFIT's exclusive features and medical accuracy to work for you and allows you and your clients to easily track progress and improvement.
Fit-Key is an easy to use program that allows you to prescribe exercise using the unique features of SCIFIT products.
Fit-Key makes it easy to:
Create customized workouts
Guide clients and prescribe exercise programs
Collect data, document results and provide reports
Motivate clients and show improvement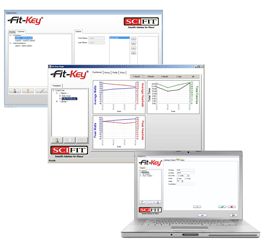 MAKE EVERY MOVEMENT COUNT
Fit-Key lets you create and use customized workouts on any SCIFIT product – and track progress over time. With plug-in-and-go convenience, helpful prompts and precise documentation of wattage, heart rate and other metrics, it's easy to monitor and motivate for measurable improvement.
EFFECTIVE EXERCISE PRESCRIPTIONS
Fit-Key makes it easy to prescribe specialized exercise programs and track compliance and improvement. Want to prescribe a multi-product, cardio and strength workout? It's no problem with Fit-Key.
STRENGTH IN NUMBERS
The intuitive software lets medical professionals, personal trainers, educators and more efficiently create and store programs for multiple groups and individuals. Fit-Key provides smooth traffic flow through a circuit of exercises. With nothing for the user to set up, it's as easy as pressing "Start". Best of all, Fit-Key's immediate and comprehensive feedback lets you adjust programs for maximum effectiveness, while motivating users toward their goals. Fit-Key software makes it easy to create and save customized exercise templates for individuals, groups or any combination.
EASY TO USE
Simply create an exercise program and save to a Fit-Key USB drive for total wireless portability and convenience.
The Fit-Key USB drive uploads the exercise program into the Intelli-Fit console of any SCIFIT product, and documents each entire workout using precise metrics.
Take results from workout to computer for the ultimate in performance feedback and tracking. Whether you're looking for detailed results from an individual session or big-picture trends, Fit-Key's friendly graphics show progress at a glance.