CONSOLE FEATURES
OVERVIEW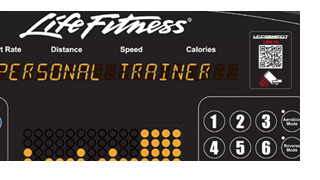 LFconnect: Workout Tracking
With an LFconnect account, users create and personalize their workouts by duration, level and speed. They can easily access their personal settings in your facility by logging on through the LFconnect app on their Android™ or Apple® device.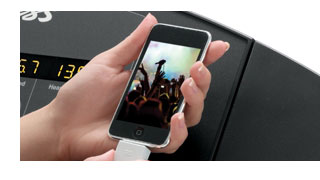 iPod Compatibility
Made for iPod integration allows users to charge their iPod, manage their playlist, and watch videos on the optional Attachable TV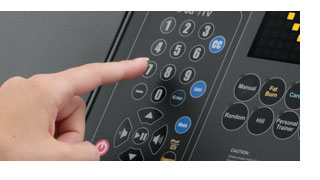 Integrated iPod/TV Controls
Numeric keypad built right into the console allows seamless control of channel, volume, iPod tracks, source, closed captioning, mute, pause and "last" channel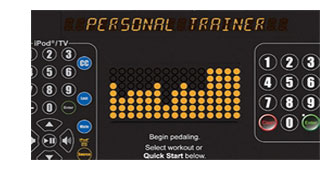 Easy to Use
An intuitive console with amber LEDs makes startup simple and allows for easy data viewing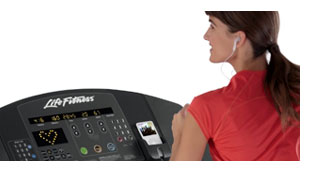 Motivating Workout Variety
28 workouts, including 5 Zone Training+™ Workouts that automatically adjust the incline level and keep users in their target heart rate zone. Also includes 5K and 10K Run, goal-based workouts and Submax WFI, Fit Test and Military PRT/PFT fitness protocols.
KEY FEATURES
LFconnect Data
The optional Connect Module connects Activate Series and  Integrity Series cardio equipment to LFconnect.com, which provides important information about equipment usage. It also offers workout tracking for exercisers.
DX3 Belt and Deck System
This groundbreaking system combines a lubricant-infused belt, Advanced Belt Tracking System (ABTS™) and our patented FlexDeck Shock Absorption System for the ultimate in durability and comfort.
Heart Rate Monitoring
Lifepulse™ digital heart rate monitoring hand sensors are conveniently placed on the easy-to-grip Ergo™ bar to provide walkers with precise heart rate monitoring, and Polar® telemetry provides runners with accurate, "hands-free" heart rate monitoring. (Telemetry requires optional chest strap.)
Rapidworks™ Service Enhancements
Maintenance is fast and easy with Auto Alert™ diagnostics that inform you of service needs and permanently record and date-stamp maintenance performed.
Optional 15″ Attachable TV
Offers users a great combination of exercise and entertainment. Plus, iPod and iPhone users can view iPod and iPhone video content on the Attachable TV (requires Composite AV Cable, sold separately).