CONSOLE FEATURES
OVERVIEW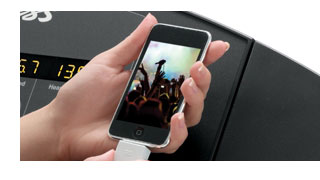 iPod Compatibility
Made for iPod integration allows users to charge their iPod, manage their playlist, and watch videos on the optional Attachable TV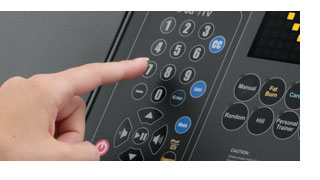 Integrated iPod/TV Controls
Numeric keypad built right into the console allows seamless control of channel, volume, iPod tracks, source, closed captioning, mute, pause and "last" channel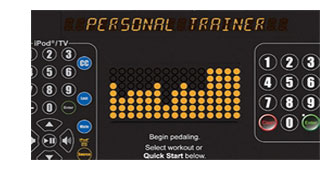 Easy to Use
An intuitive console with amber LEDs makes startup simple and allows for easy data viewing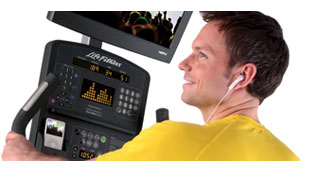 Motivating Workout Variety
25 workouts, including 5 Zone Training+™ Workouts that automatically adjust the incline level and keep users in their target heart rate zone. Goal-based workouts and interval workouts keep users motivated.
KEY FEATURES
LFconnect Data 
The optional Connect Moduleconnects Activate Series and Integrity Series cardio equipment to LFconnect.com, which provides important information about equipment usage. It also offers workout tracking for exercisers.
Extreme Cardio Workout
 The natural motion of climbing – one of the most demanding activities in the world – is replicated in the short, quick strides and long, deep lunges of the Summit Trainer.
Total Body Exercise
 Precisely synchronized upper and lower body motions translate into efficient and effective full-body workouts. Choose to use only the foot pedals for a superior lower-body focused workout.
Heart Rate Monitoring
 Lifepulse™ digital heart rate monitoring hand sensors are conveniently placed on the ergonomically designed bullhorns to provide precise heart rate monitoring, and Polar® telemetry provides accurate, "hands-free" heart rate monitoring. (Telemetry requires optional chest strap.)
Self-Powered Convenience*
 Cordless, so you can place your Summit Trainers anywhere you want.
Plug-In Option
Provides a lower operating resistance, which appeals to novice and deconditioned users.
Optional 17″ Attachable TV
 Offers users a great combination of exercise and entertainment. Plus, iPod and iPhone users can view iPod and iPhone video content on the Attachable TV (requires Composite AV Cable, sold separately). *Models with Attachable TV require external power source.
*Models with Attachable TV require external power source