KEY FEATURES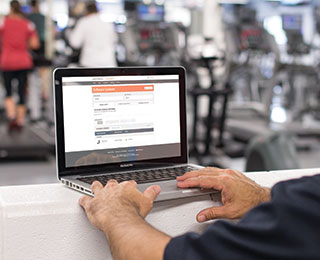 CONNECTED CARDIO
Integrity Series cardio can be connected to LFconnect for asset management, facility usage data, preventive maintenance, LFconnect Protect and more, so you get the most out of your equipment.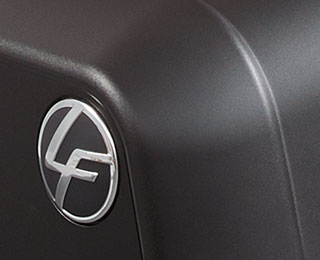 DESIGN
The sleek design creates an inviting and consistent look that is both aesthetically pleasing and functionally practical.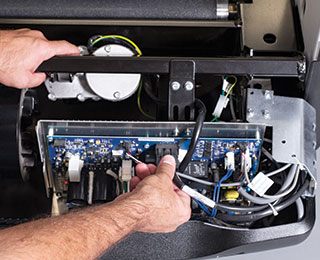 SERVICEABILITY
The Integrity Series has been designed to offer easy access for maintenance and servicing to keep your equipment lasting longer and reducing downtime.
A COMFORTABLE RIDE
Easy adjustment for a fine-tuned and ergonomically sound seat position. Wide pedals with simple buckle straps allow exerciser to get on and go.
ERGONOMIC RACING HANDLEBARS
Handlebars are designed to offer three different exerciser positions. Choose from cruising, hybrid and race positions..
GENERATOR DRIVE SYSTEM
Drive system with 8-ribbed poly-V belt resistance provides a smooth, quiet operation and requires limited maintenance.
Console comparison
MODEL
DISCOVER SE3 HD



DISCOVER ST
INTEGRITY X CONSOLE
INTEGRITY C CONSOLE
SCREEN
Display
16in 1080p Touch Screen
16in 1080p Touch Screen
7in Touch LCD
LED
Navigation
Touch Screen
Touch Screen
Touch, tactile buttons
Membrane buttons
Languages
24
24
19
Universal
Display readouts
Speed, Incline, Heart rate (current, average, max), Pace, Elapsed time, Time remaining, Time in zone, Time of day, Distance, Distance climbed, Distance remaining, Calories, Calories / HR, Watts, METs
Speed, Incline, Heart rate (current, average, max), Pace, Elapsed time, Time remaining, Time in zone, Time of day, Distance, Distance climbed, Distance remaining, Calories, Calories / HR, Watts, METs
Speed, Distance, Distance climbed, Average pace, Average speed, Total cal burned, Average METs, Average watts, Average HR, Max HR, RPM
Speed, Time, Distance, HR, Calories, Watts, Resistance, RPM
CONNECTIVITY
Internet connectivity
Wireless or Wired Connectivity
Wireless or Wired Connectivity
Wireless Connectivity
Wireless Connectivity
Bluetooth
Standard (headphone, HR straps)
Standard (headphone, HR straps)
Y (Login and HR straps only)
N
Login

QR code via WiFi or Bluetooth (when not connected)
Proximity login via Bluetooth or NFC
Manual input
QR code via WiFi or Bluetooth (when not connected)
Proximity login via Bluetooth or NFC
Manual input
QR code via WiFi or Bluetooth (when not connected)
Proximity login via Bluetooth or NFC
QR code
RFID
Optional
Optional
Optional
N
NFC
Y
Y
Y
N
Gateway required
N
N
N
N
Equipment scan required at install
N
N
N
N
USB port
For software updated and device charging
For software updated and device charging
For software updated and device charging
For software updated and device charging
Minimum download bandwidth requirement (to utilize all features)
Download: up to 8 units: 8 Mbps; 9+ units: 8 Mbps + 1 Mbps for each additional unit
Upload: up to 20 units: 500 Kbps; 21+ units: 500 Kbps + 500 Kbps for each additional 20 units
Download: up to 8 units: 8 Mbps; 9+ units: 8 Mbps + 1 Mbps for each additional unit
Upload: up to 20 units: 500 Kbps; 21+ units: 500 Kbps + 500 Kbps for each additional 20 units
Download: up to 8 units: 8 Mbps; 9+ units: 8 Mbps + 1 Mbps for each additional unit
Upload: up to 20 units: 500 Kbps; 21+ units: 500 Kbps + 500 Kbps for each additional 20 units
Download: up to 8 units: 2.5 Mbps; 9+ units: 2.5 Mbps + .025 Mbps for each additional unit
Upload: up to 20 units: 500 Kbps; 21+ units: 500 Kbps + 500 Kbps for each additional 20 units
Telemetry HR
Compatbile with Polar and Bluetooth straps
Compatbile with Polar and Bluetooth straps
Compatbile with Polar and Bluetooth straps
N
C-SAFE
Y-external
Y-external
N
N
WORKOUTS
Number of workouts
12-15 + Quick start
12-15 + Quick start
21+ Quick start (3 will rotate every 6 months when product is connected) - Up to 30 total workouts possible
3 + Quick start
Workouts

Goal based: Time, distance, climb, interval, aerobics, watts, METs, starter interval, reverse, 2 speed interval, 3 speed interval (4 terrains per)
Heart rate based: Moderate, vigorous, fixed time, variable time
Fitness tests: LF fitness test, U.S. Navy PRT, U.S. Army, U.S. Marines, U.S. Air Force, WFI Submax protocol, physical efficiency battery, FAMS, CPAT
Goal based: Time, distance, climb, interval, aerobics, watts, METs, starter interval, reverse, 2 speed interval, 3 speed interval (4 terrains per)
Heart rate based: Moderate, vigorous, fixed time, variable time
Fitness tests: LF fitness test, U.S. Navy PRT, U.S. Army, U.S. Marines, U.S. Air Force, WFI Submax protocol, physical efficiency battery, FAMS, CPAT
Time, distance, calorie, heart rate, random, hill, manual, rolling hills, speed interval, WFI submax protocol, Life Fitness Fit Test, resistance, interval, reverse, METs, watts
Manual, random, hill
Speed interval workout
Y
Y
Y
N
Fit tests
Y
N
Y
N
Custom facility workouts
Y
N
N
N
Custom exerciser workouts (via LFconnect.com exerciser app)
Y
Y
N
N
ASSET MANAGEMENT
Asset management tool (with internet connection)
Y
Y
Y
Y
Software updates
Via connected asset management or USB
Via connected asset management or USB
Via connected asset management or USB
Via connected asset management or USB
ENTERTAINMENT
Integrated TV
Y (ATSC, QAM, Pro:Idiom, NTSC, DVBT-2, PAL/SECAM, ISDB-T, Open IPTV, HDMI connection)
PAL/SECAM, ISDB-T, Open IPTV, HDMI connection) Y (ATSC, QAM, Pro:Idiom, NTSC, DVBT-2, PAL/SECAM, ISDB-T, Open IPTV, HDMI connection)
N
N
Attachable TV
N
N
Optional (ATSC, QAM, Pro:Idiom, NTSC, DVBT-2/PAL/SECAM, ISDB-T)
Optional (ATSC, QAM, Pro:Idiom, NTSC, DVBT-2/PAL/SECAM, ISDB-T)
MYE
N
N
Optional embedded
Optional embedded
TV controls
On touch screen channel list, on touch screen keypad and volume controls
On touch screen channel list, on touch screen keypad and volume controls
On touch screen keypad, on entertainment rack channel up/down, volume up/down
On entertainment rack channel up/down, volume up/down
Web browsing
Y
N
N
N
Virtual courses
Y
N
N
N
On demand content
N
N
N
N
Fan
N
N
N
N
CUSTOMIZATION
Facility messaging
Y
N
N
N
Custom initial screens
Y (3)
Y (1)
N
N
On screen app promotion
Y
Y
Y
N
Custom facility product settings
Y
Y
Y
Y
Custom facility exerciser workouts
Y
N
N
N
Custom internet browser links
Y
N
N
N
Potential for continued software development
Y
Y
Y
N
ON CONSOLE APPS
Netflix
Y
N
N
N
Hulu
Y
N
N
N
Pandora
Y
N
N
N
ESPN
Y
N
N
N
Y
N
N
N
Newsy
Y
N
N
N
Flipboard
Y
N
N
N
YoutTube
Y
N
N
N
The Economist
Y
N
N
N
Sudoku
Y
N
N
N
Chess
Y
N
N
N
Solitaire
Y
N
N
N