CONSOLE FEATURES
OVERVIEW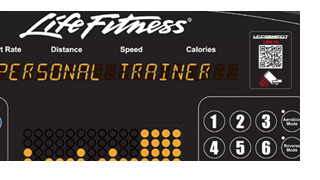 LFconnect: Workout Tracking
With an LFconnect account, users create and personalize their workouts by duration, level and speed. They can easily access their personal settings in your facility by logging on through the LFconnect app on their Android™ or Apple® device.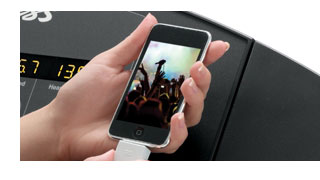 iPod Compatibility
Made for iPod integration allows users to charge their iPod, manage their playlist, and watch videos on the optional Attachable TV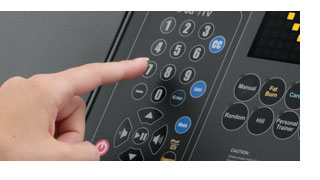 Integrated iPod/TV Controls
Numeric keypad built right into the console allows seamless control of channel, volume, iPod tracks, source, closed captioning, mute, pause and "last" channel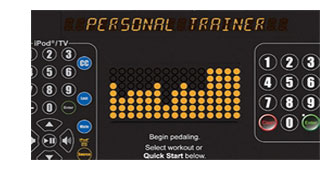 Easy to Use
An intuitive console with amber LEDs makes startup simple and allows for easy data viewing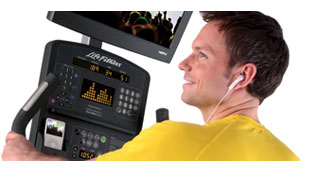 Motivating Workout Variety
29 workouts, including 5 Zone Training+™ Workouts that automatically adjust the resistance level and keep users in their target heart rate zone. Also includes goal-based workouts, Air Force PRT, Fitness Test protocols, and the machine-prompting Aerobics Trainer Workout to keep users motivated.
KEY FEATURES
LFconnect Data
 The optional Connect Moduleconnects Activate Series and  Integrity Series cardio equipment to LFconnect.com, which provides important information about equipment usage. It also offers workout tracking for exercisers.
Reliability
 Our bikes offer unrivaled reliability when it comes to cardio machines. Successful facilities depend on Life Fitness bikes to provide the workouts people benefit from year after year.
Comfort Curve Seat with Easy Adjustments
 Convex shape and swept back seat design provide superior comfort. Ratchet seat adjustment makes it easy for users to adjust the seat height, even while in a seated position.
Belt Driven System 
Custom-designed system is quiet and virtually maintenance free.
Heart Rate Monitoring
 Lifepulse™ digital heart rate monitoring hand sensors are conveniently placed on the handlebars to provide precise heart rate monitoring, and Polar® telemetry provides accurate, "hands-free" heart rate monitoring. (Telemetry requires optional chest strap.)
Self-Powered Convenience*
 Cordless, so you can place your bikes anywhere you want.
Plug-In Option
 Provides a lower operating resistance, which appeals to novice and deconditioned users
Optional 17″ Attachable TV
 Offers users a great combination of exercise and entertainment. Plus, iPod and iPhone users can view iPod and iPhone video content on the Attachable TV (requires Composite AV Cable, sold separately). *Models with Attachable TV require external power source.
*Models with Attachable TV require external power source.