CONSOLE FEATURES
Faster, more powerful processors and increased memory support the wide range of personalised entertainment apps
The Discover SE3 tablet console is the result of extensive research that asked what makes a consistently captivating experience. With engaging layouts, simple discoverability and a host of other digital advances including integrated streaming video services; the Discover SE3 console brings your facility to the forefront of the digital fitness world.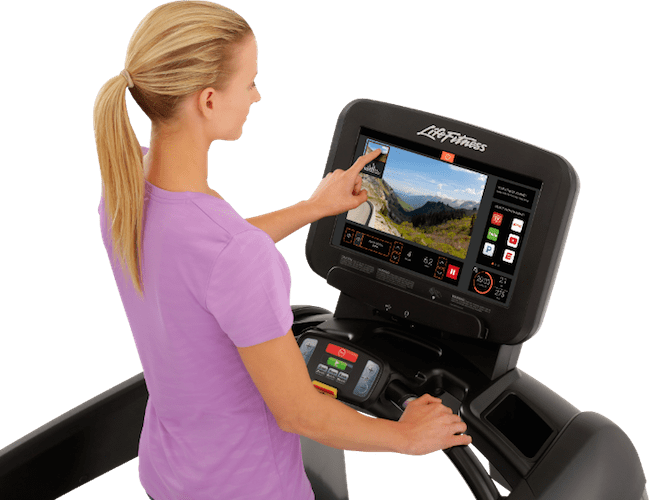 Dashboard Design
The dashboard puts everything
at an exerciser's fingertips including features that make workouts memorable and enhance exerciser engagement.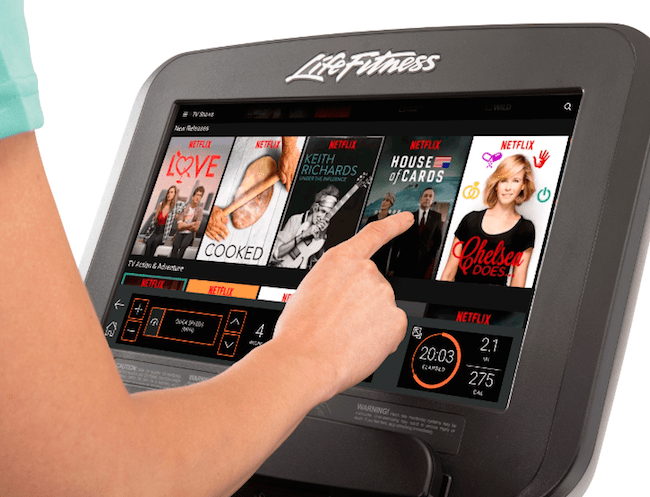 Entertainment Apps
We enhanced the most used features of our consoles to help exercisers stay engaged. By enabling user-driven content to each exerciser, we're personalizing the way people interact with the Discover SE3 console. Featuring streaming video and audio services like Netflix™, Hulu™ and Pandora® Radio, these consoles are transforming the way facilities think about entertainment.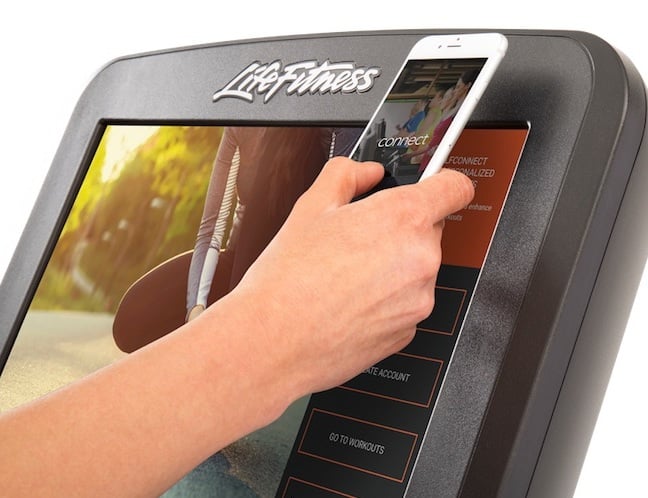 Easy Log In Process
Proximity Bluetooth® and NFC login make it easy for exercisers to explore the benefits of connecting to the console. Better tracking, workout history and data, and GPS workouts are all available through the LFconnect app.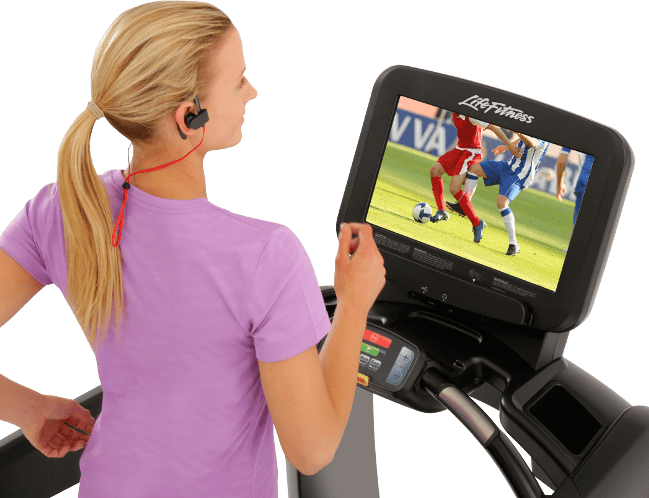 Bluetooth®
Being connected quickly and easily is a necessity in the digital age. Exercisers need a workout facility that offers an intuitive
connected experience. Exercisers can easily connect their headphones, heart rate devices and related Bluetooth enabled devices.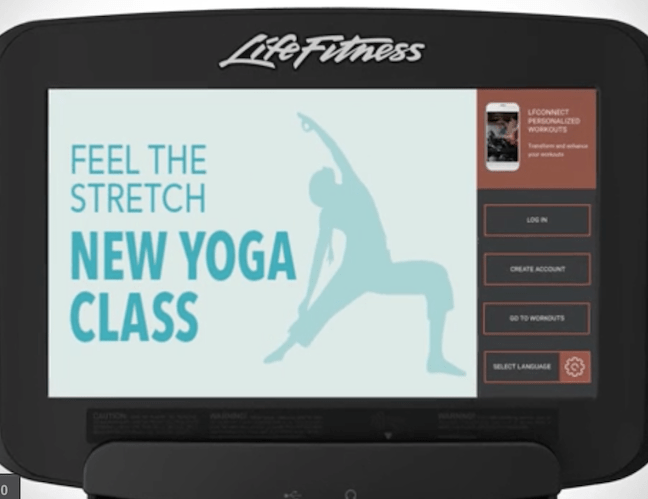 Home Screens
Home screens are an important point of contact with exercisers for any facility. They can be customized to promote facility programs and services, boost brand loyalty, and keep exercisers up to date with news and events.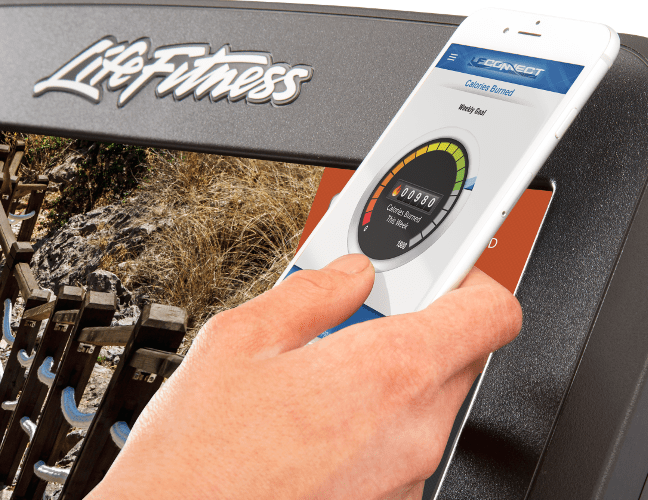 LFConnect
Our solutions include proactive service, statistics, software updates, compatibility with fitness apps and wearables,
and the ability to customize how your exercisers interact with the facility. These assets work seamlessly
together to create a consistently delightful experience for each customer.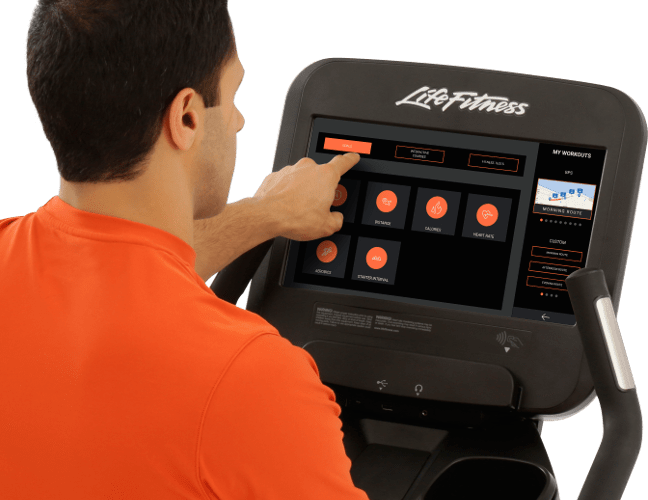 Hardware
The Discover SE3 Console has a faster, more powerful processor and increased memory in order to further support the console's wide range of personalized entertainmentapps.
Base Features
The PowerMill Climber has the smallest footprint among similar products in the industry. Modular panels make internal access easy for service professionals. The AC motor is extremely reliable and offers smooth transitions between 25 speed levels (from 12 to 185 steps per minute).
Console comparison
MODEL
DISCOVER SE3 HD
DISCOVER SE3
DISCOVER ST
DISCOVER SI
EXPLORE
Display
16in 1080p Touch Screen
16in 720p Touch Screen
16in 1080p Touch Screen
10in LCD Touch Screen
7in LCD Screen
Navigation
Touch Screen
Touch Screen
Touch Screen
Touch Screen
Dial navigation
Languages
24
24
24
21
13
Display readouts - Treadmills
Speed, Incline, Heart Rate (current, average, max), Pace, Elapsed Time, Time Remaining, Time in Zone, Time of Day, Distance, Distance Climbed, Distance Remaining, Calories, Calories/HR
Speed, Incline, Heart Rate (current, average, max), Pace, Elapsed Time, Time Remaining, Time in Zone, Time of Day, Distance, Distance Climbed, Distance Remaining, Calories, Calories/HR
Speed, Incline, Heart Rate (current, average, max), Pace, Elapsed Time, Time Remaining, Time in Zone, Time of Day, Distance, Distance Climbed, Distance Remaining, Calories, Calories/HR
Speed, Incline, Heart Rate (current, average, max), Pace, Elapsed Time, Time Remaining, Time in Zone, Time of Day, Distance, Distance Climbed, Distance Remaining, Calories, Calories/HR
Speed, Incline, Heart Rate (current, average, max), Pace, Elapsed Time, Time Remaining, Time in Zone, Time of Day, Distance, Distance Climbed, Distance Remaining, Calories, Calories/HR
Display readouts - Non Treadmills
Speed, Incline, Heart Rate (current, average, max), Pace, Elapsed Time, Time Remaining, Time in Zone, Time of Day, Distance, Distance Climbed, Distance Remaining, Calories, Calories/HR, Watts, METs
Speed, Incline, Heart Rate (current, average, max), Pace, Elapsed Time, Time Remaining, Time in Zone, Time of Day, Distance, Distance Climbed, Distance Remaining, Calories, Calories/HR, Watts, METs
Speed, Incline, Heart Rate (current, average, max), Pace, Elapsed Time, Time Remaining, Time in Zone, Time of Day, Distance, Distance Climbed, Distance Remaining, Calories, Calories/HR, Watts, METs
Speed, Incline, Heart Rate (current, average, max), Pace, Elapsed Time, Time Remaining, Time in Zone, Time of Day, Distance, Distance Climbed, Distance Remaining, Calories, Calories/HR, Watts, METs
Speed, Incline, Heart Rate (current, average, max), Pace, Elapsed Time, Time Remaining, Time in Zone, Time of Day, Distance, Distance Climbed, Distance Remaining, Calories, Calories/HR, Watts, METs
CONNECTIVITY
Internet connectivity
Wireless or Wired Connectivity
Wireless or Wired Connectivity
Wireless or Wired Connectivity
Wireless or Wired Connectivity
Wireless or Wired Connectivity
Buetooth
Standard (headphone, HR straps)
Standard (headphone, HR straps)
Standard (headphone, HR straps)
Standard (headphone, HR straps)
Standard (headphone, HR straps)
Login

QR code via WiFi or Bluetooth (when not connected)
Proximity login via Bluetooth or NFC
Manual input

QR code via WiFi or Bluetooth (when not connected)
Proximity login via Bluetooth or NFC
Manual input

QR code via WiFi or Bluetooth (when not connected)
Proximity login via Bluetooth or NFC
Manual input
QR code via WiFi or Bluetooth (when not connected)
Proximity login via Bluetooth or NFC
QR code via WiFi or Bluetooth (when not connected)
Proximity login via Bluetooth or NFC
RFID
Optional
Optional
Optional
Optional
N
NFC
Y
Y
Y
Y
N
Gateway required
N
N
N
N
N
Equipment scan required at install
N
N
N
N
N
USB port
For software updated and device charging
For software updated and device charging
For software updated and device charging
For software updated and device charging
For software updated and device charging
Minimum download bandwidth requirement
Download: up to 8 units: 8 Mbps; 9+ units: 8 Mbps + 1 Mbps for each additional unit
Upload: up to 20 units: 500 Kbps; 21+ units: 500 Kbps + 500 Kbps for each additional 20 units
Download: up to 8 units: 8 Mbps; 9+ units: 8 Mbps + 1 Mbps for each additional unit
Upload: up to 20 units: 500 Kbps; 21+ units: 500 Kbps + 500 Kbps for each additional 20 units
Download: up to 8 units: 8 Mbps; 9+ units: 8 Mbps + 1 Mbps for each additional unit
Upload: up to 20 units: 500 Kbps; 21+ units: 500 Kbps + 500 Kbps for each additional 20 units
Download: up to 8 units: 8 Mbps; 9+ units: 8 Mbps + 1 Mbps for each additional unit
Upload: up to 20 units: 500 Kbps; 21+ units: 500 Kbps + 500 Kbps for each additional 20 units
Download: up to 8 units: 8 Mbps; 9+ units: 8 Mbps + 1 Mbps for each additional unit
Upload: up to 20 units: 500 Kbps; 21+ units: 500 Kbps + 500 Kbps for each additional 20 units
Telemetry HR
Compatbile with Polar and Bluetooth straps
Compatbile with Polar and Bluetooth straps
Compatbile with Polar and Bluetooth straps
Compatbile with Polar and Bluetooth straps
N
C-SAFE
Y-external
Y-external
Y-external
N
N
WORKOUTS
Number of workouts
12-15 + Quick start
12-15 + Quick start
12-15 + Quick start
12-15 + Quick start
3 + Quick start
Workout
Goal based: Time, distance, climb, interval, aerobics, watts, METs, starter interval, reverse, 2 speed interval, 3 speed interval (4 terrains per)
Heart rate based: Moderate, vigorous, fixed time, variable time
Fitness tests: LF fitness test, U.S. Navy PRT, U.S. Army, U.S. Marines, U.S. Air Force, WFI Submax protocol, physical efficiency battery, FAMS, CPAT
Goal based: Time, distance, climb, interval, aerobics, watts, METs, starter interval, reverse, 2 speed interval, 3 speed interval (4 terrains per)
Heart rate based: Moderate, vigorous, fixed time, variable time
Fitness tests: LF fitness test, U.S. Navy PRT, U.S. Army, U.S. Marines, U.S. Air Force, WFI Submax protocol, physical efficiency battery, FAMS, CPAT
Goal based: Time, distance, climb, interval, aerobics, watts, METs, starter interval, reverse, 2 speed interval, 3 speed interval (4 terrains per)
Heart rate based: Moderate, vigorous, fixed time, variable time
Fitness tests: LF fitness test, U.S. Navy PRT, U.S. Army, U.S. Marines, U.S. Air Force, WFI Submax protocol, physical efficiency battery, FAMS, CPAT
Goal based: Time, distance, climb, interval, aerobics, watts, METs, starter interval, reverse, 2 speed interval, 3 speed interval (4 terrains per)
Heart rate based: Moderate, vigorous, fixed time, variable time
Fitness tests: LF fitness test, U.S. Navy PRT, U.S. Army, U.S. Marines, U.S. Air Force, WFI Submax protocol, physical efficiency battery, FAMS, CPAT

Manual, random, hill
Speed interval workout
Y
Y
Y
Y
Y
Fit tests
Y
Y
N
Y
N
Custom facility workouts
Y
Y
Y
N
N
Custom exerciser workouts (via LFconnect app)
Y
Y
Y
Y
N
ASSET MANAGEMENT
Asset management tool (with internet connection)
Y
Y
Y
Y
Y
Software updates
Via connected asset management or USB
Via connected asset management or USB
Via connected asset management or USB
Via connected asset management or USB
Via connected asset management or USB
Integrated TV
Y (ATSC, QAM, Pro:Idiom, NTSC, DVBT-2, PAL/SECAM, ISDB-T, Open IPTV, HDMI connection)
Y (ATSC, QAM, Pro:Idiom, NTSC, DVBT-2, PAL/SECAM, ISDB-T, Open IPTV, HDMI connection)
Y (ATSC, QAM, Pro:Idiom, NTSC, DVBT-2, PAL/SECAM, ISDB-T, Open IPTV, HDMI connection)
N
N
Attachable TV
N
N
N
N
Optional (ATSC, QAM, Pro:Idiom, NTSC, DVBT-2/PAL/SECAM, ISDB-T)
MYE
N
N
N
N
Optional embedded
Tv controls
On touch screen channel list, on touch screen keypad and volume controls
On touch screen channel list, on touch screen keypad and volume controls
On touch screen channel list, on touch screen keypad and volume controls
On touch screen channel list, on touch screen keypad and volume controls
On touch screen channel list, on touch screen keypad and volume controls
Web browsing
Y
Y
N
N
N
Virtual courses
Y
Y
N
N
N
On demand content
N
N
N
N
N
Fan
N
N
N
N
N
CUSTOMIZATION
Facility messaging
Y
Y
Y
Y
Y
Custom initial screens
Y (3)
Y (3)
Y (1)
N
N
On screen app promotion
Y
Y
Y
Y
N
Custom facility product settings
Y
Y
Y
Y
Y
Custom facility exerciser workouts
Y
Y
N
N
N
Custom internet browser links
Y
Y
N
N
N
Potential for continued software development
Y
Y
Y
Y
N
ON CONSOLE APPS
Netflix
Y
Y
N
N
N
Hulu
Y
Y
N
N
N
Pandora
Y
Y
N
N
N
ESPN
Y
Y
N
N
N
BBC News
Y
Y
N
N
N
Newsy
Y
Y
N
N
N
Flipboard
Y
Y
N
Y
Y
YouTube
Y
Y
N
N
N
The Economist
Y
Y
N
N
N
Sudoku
Y
Y
N
N
N
Chess
Y
Y
N
N
N
Solitaire
Y
Y
N
Y
N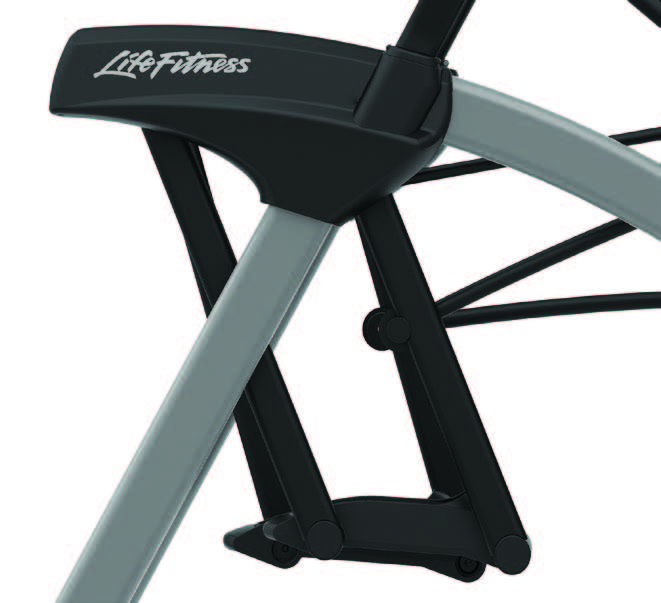 24" stride
to allow for a glide, stride or climb movement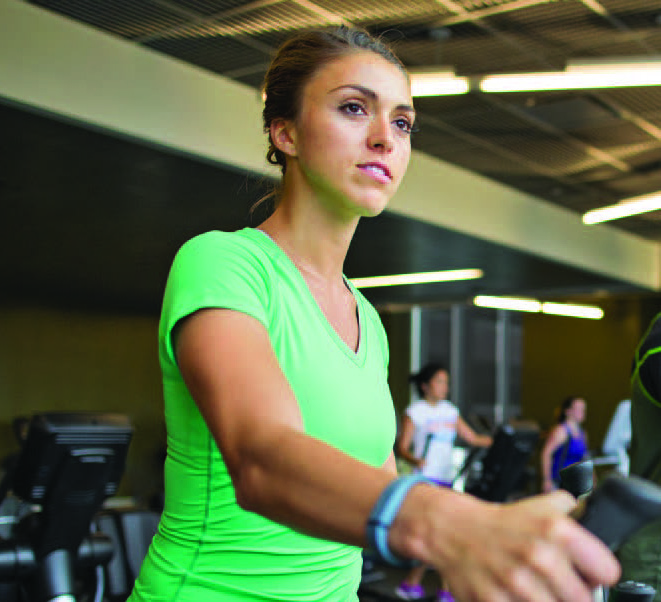 (SSF) Same Side Forward
handles ensure proper position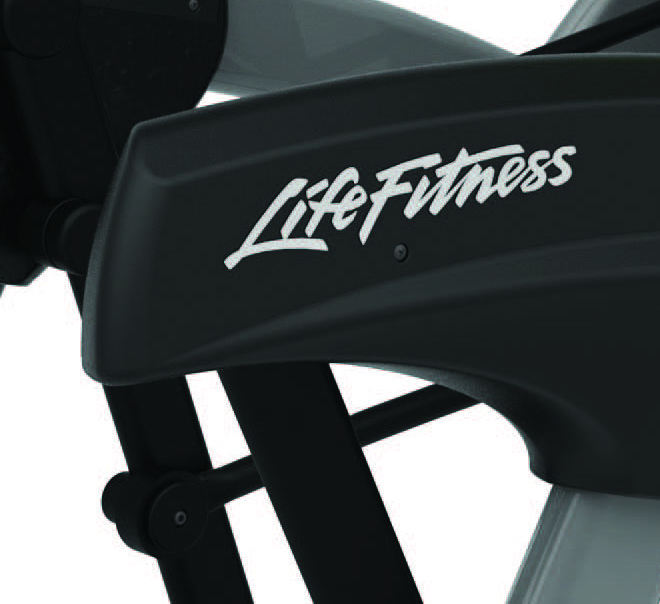 One Level Setting
controls both resistance and incline settings