KEEP OUR KIDS MOVING FOR A HEALTHY FUTURE

Schools and Universities with competitive sports programs and dynamic fitness centres find that they recruit more students, increase wellness and boost campus diversity. The highly social exercise environments also produce new possibilities for collaboration between scholars. With the assistance of Life Fitness and Hammer Strength, you'll find that owning the best equipment in the world will help you build the best student body
WHAT WE DELIVER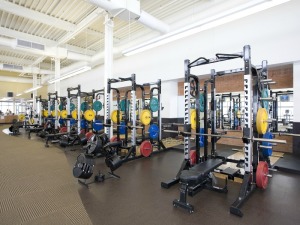 Premier Product and Student Engagement
College lifestyles create extreme commitments — among them athletics, academics, activities, and the arts. With such busy schedules, only premiere equipment can truly engage students and get them to the gym on a consistent basis. When your students see our Elevation Series cardio machines, our Hammer Strength benches and racks, our group training-focused SYNRGY360, and our Insignia Series selectorized machines, the positive reaction will be unanimous, and the facility will become a crucial hub that boosts on-campus culture, community and commitment.
360 Degree Facility Management
LFconnect is the leading cloud technology for universities looking to create the ultimate customized management and workout experience. With LFconnect and our Discover Tablet Consoles, you can monitor product usage statistics, create school logos and campus-wide workouts, and even initiate fundraising and donations — all with the click of a button.
HOW WE DELIVER
Enrolment Success
A school's fitness centre can be a make-or-break factor in attracting students. In fact, studies have found that 30% of prospective students make their decision to attend based on a school's recreation and fitness facilities. As a scheduled stop on campus tours, the need to differentiate your school from the competition cannot be underestimated. Life Fitness will get you there.
No products were found matching your selection.